TAMAYA Digital Planimeters and Digitizing Area-Line Meters 〈PLANIX 7/10S〉
Tamaya digital planimeters and digitizing area-line meters are excellent tools to use when measuring irregular-shaped areas on plans or drawings.  They eliminate the need for grids, charts, or calculations done by hand.
PLANIX 7
PLANIX 7 with numeric keyboard allows user input of scale, so area from plan or drawing can be computed.  PLANIX 7, a roller planimeter, is attached to wheels that allow unlimited horizontal movement and vertical movement within the limits of the arm movement.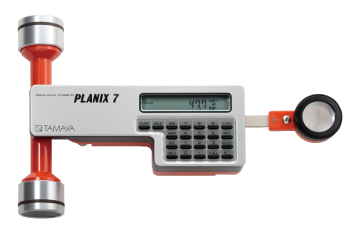 《Specifications for PLANIX 7》
Power
Internal nickel metal hydride battery or AC adaptor
Operating Hours
30 hours, after 15 hours of recharge
Display Method
LCD with zero suppression
Resolution
One digit corresponds to 0.1cm2 or 0.01 in.2
Accuracy
Better than +/- 0.2% (+/- 2/1000 pulses)
Display Capacity
8 digits output/input, HOLD, MEMO, BATT E, READY, cm2, in2
SCALE, m2, km2, ft2, acre
Measuring Range
300cm x 30cm
118″ x 11.8″
Weight
Approx. 650g
Dimensions (Polar arm length)
150 x 240 x 39mm
Carrying Case
183 x 260 x 64 mm
PLANIX 10S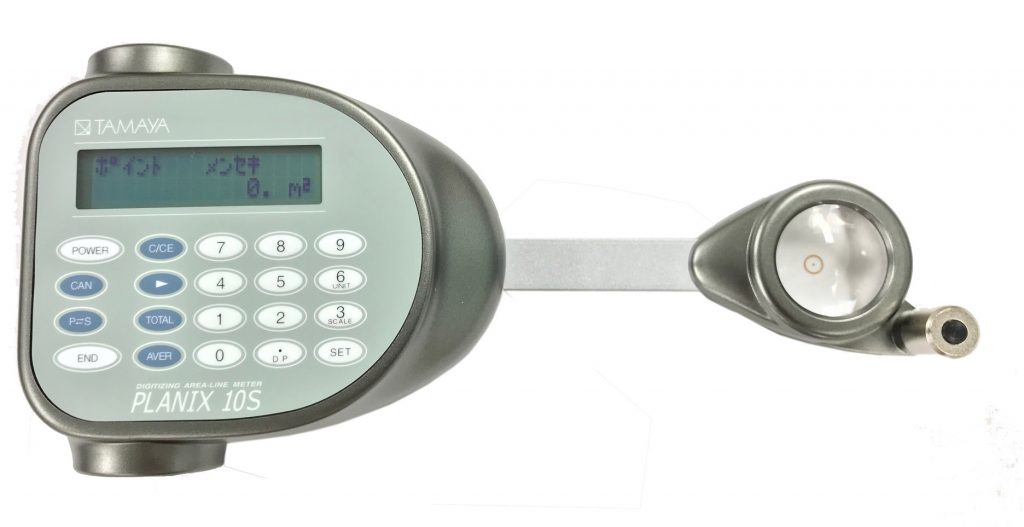 Switching by Lines
Point/Stream (continuous) mode key allows conversion between point mode measurement for plotting points on straight lines, and stream mode for tracing curves on curved lines.
More Compact and Lightweight
The weight is only 630g, and the compact design allows for easier measurement.
Total and Average as you go
By measuring the same diagram more than once, a more accurate average or cumulative measurement for large scale diagrams can easily be done with these special keys.
Measurement of Reduced/Enlarged Scale and the Vertical Scale with Different Horizontal Scale
PLANIX 10S can also measure the area of a scaled plan.
Auto-Close Function
Automatically finishes measuring when it is returned to the starting point during measurement.
《Specifications for PLANIX 10S 》
| | |
| --- | --- |
| Measuring Functions | Area, line, and side length(s) |
| Measuring Scale | mm, cm, m, km, in, ft, acre/yd |
| Measuring Range | 300mmx10m |
| Measuring Accuracy | ± 0.1% (for an area of 100 x 100mm) |
| Display | LCD 16 digits on 2 lines |
| Smallest Unit of Linear Reading | 0.05mm |
| Power | Internal nickel metal hydride battery or AC charger/adaptor |
| Operating Time | Approx. 20 hours use |
| Charging Time | Approx. 15 hours |
| Accessories | Storage case, AC charger/adaptor, gauge template |
| Dimensions | 250(L)x110(W)x40(H)mm |
| Weight | 630g (without case) |