TAMAYA Golden Sextant
In the year 1913, Tamaya Shoten (Tamaya Technics Inc., today), upon request from the Tokyo Astronomical Observatory (National Astronomical Observatory of Japan, today), manufactured and delivered the first universal instrument (a theodolite for astronomical observation) in Japan whose smallest unit of reading was 1 second (").
This was the motive for Tamaya Shoten to start the domestic production of sextants.  It took Tamaya Shoten about eight years to make the first domestic sextant, but this was a result of very high motivation of the technicians back then to face challenges, and their persistent efforts.  And it is needless to say that this accomplishment of domestic production of sextants led to the driving force to develop and produce numerous products, thereafter.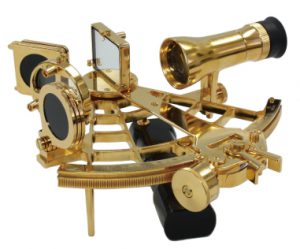 The year 2013 marks the 100th anniversary of the first sextant made in Japan, by Tamaya Shoten.  We Tamaya Technics Inc. consider the year 2013 a good time to reflect on the strong thoughts and passions of our predecessors, and to remind ourselves the importance of never giving up our motivation for technological innovation and for facing challenges.  With this in mind, Tamaya Technics Inc. are determined to continue to offer products which will make the world a better place to live.
The first sextant was invented roughly 260 years ago, in the year 1757, in England.  The material of sextant, at the time, was mostly brass, and sextants back then were shining in golden color immediately after they were made.  However, with passage of time, the sextants would be oxidized and would gradually turn brown in color.
Tamaya Technics Inc. have developed a golden sextant with special specifications.  Its surface is covered with gold plating so that its luster, immediately after production and at the time the sextant was first invented in 1757, will never be lost and can be passed onto future generations.  The intention is also to not lose the strong thoughts and passions of our predecessors who have achieved the first domestic production of sextants.  To commemorate the 100th anniversary of domestic production of sextants, Tamaya Technics Inc. will release a memorial golden sextant to carry with it the intent of our predecessors.
《Specifications》
| | |
| --- | --- |
| Telescope | 4×40mm, Galilean |
| Frame, arc | Lightweight aluminum alloy with corrosion resistant gold finished bronze, radius 162mm |
| Scale on arc | From -5 to 125 |
| Micrometer drum | Vernier reads to 0′.2 |
| Index mirror | 57×42mm |
| Shade glass | 4 for index mirror, 3 for horizon mirror |
| Weight | 1.6kg |