Echo Sounder〈TDM-BⅢ〉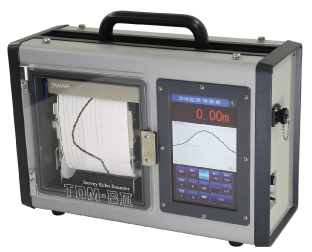 《Product Features》
Touch panel which is easy to read and for easy operation
Thermal recording using heat-sensitive chart
No synchronization error
Low power consumption
5 hours continuous operation with built-in battery.
Car battery can also be used.
Automatic printing on chart
Prints the time, depth, recording scale, and correction for sound velocity
Clock function
Can print and output time at current intervals
Lightweight and compact
Only 9.8Kg with built-in battery
Automatic/Manual Shifts
Option of shifting ranges automatically
Correction for sound velocity
Automatic correction is possible if sound velocity correction value is entered.
《Specifications》
Recording Scales
1/100, 1/200, 1/50
Measuring Ranges
Analog: 0.65-100m; Digital: 1.00-100m
Accuracy
±3cm ±water depth x 1/1000
Display
Liquid crystal touch panel
Contents of Display
Time, water depth, measurement range, correction value for sound velocity, draft, and sensitivity
Recording chart
Heat sensitive sheet (thermal type), width 112mm x length 25m
Chart feeding speed
15, 30, 45, 60, 90, 120, 240, 360, and 480mm/min.
Transducer frequency
200KHz ± 3KHz
Angle of beam spread of transducer
Half value, full angle: approx. 6°
Adjustment for sensitivity
Automatic adjustment (manual adjustment also available)
Sound velocity correction
By 1-meter increment for the range 1300~1599m/s
Range of draft adjustment
0.0~9.9m
Items printed on recording chart
Time, water depth, correction value for sound velocity, and recording scale
Printout of water depth
RS-232C, 4800 baud rate, 8 bits, stop bit 2
Power supply
DC12V (internal or external battery)
Power consumption
12V, 0.65A
Operating time
5 hours continuous
Dimensions
391W x 257H x 147D mm
Weight
9.8Kg (with built-in battery)
Accessories
Transducer, boardside fixture, battery charger, marker,
5 rolls of recording chart
Optional item
Reflection plate for sound velocity correction