TAMAYA Marine Sextants 〈MS-733〉
The logo of Tamaya Technics Inc. depicts a marine sextant and an anchor.  One can say that the first domestic production of a sextant for navigation was at the root of this logo.
Tamaya Technics Inc. have been engaged for a long time in the "core" of navigation, such as determining the position of one's vessel, the course to be taken, and equipment for helping monitoring at sea.  With its accuracy and usability, Tamaya's sextants have won enormous trust, and are loved by many navigators and trainees around the world.
MS-733
The MS-733 has proved its finest quality in many years of use by ocean-going yachtsmen and marine industry professionals.  Its optical system is designed with the latest know-how to assure maximum performance.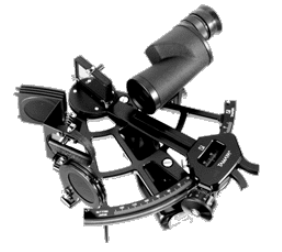 《Specifications》
Models
MS-733
Scale of arc
From -5 to 125 degrees
White engravings on black finished bronze.
Radius 162mm
Micrometer Drum
White engravings on a black plastic drum, held securely to tangent screw with two locking devices.
1′ scale Vernier reads to 0′.2
Frame
Lightweight aluminum alloy with corrosion resistant black finish, bronze arc.
Index Mirror
Rectangular, 57x42mm, aluminized on the rear side
Horizon Mirror
Circular, 57mm diameter.The right half aluminized on the rear side.
Shade Glass
4 for index mirror
3 for horizon mirror
1 shade glass
1 polaroid glass for eyepiece
Telescopes
4x40mm angle of view 7 degrees
or 7x35mm angle of view 7.5 degrees, all optics fully coated
Illuminator
On both arc and drum
Weight
1.6 kg
Carrying Case
Double wall air mold(H.D. Polyethylene) 335x335x165mm, 1.7 kg
Standard Accessories
1 adjusting wrench
2 AA size dry cells, 1 LED bulb
Brochure for Navigation Instruments